The popularity of home delivery of groceries is growing rapidly. This is evidenced by the situation in Rotterdam with several options for ordering products. From today the future is really near on the campus of Erasmus University. Robots will deliver groceries on the Woudestein campus.
The trial will last six months. It is a collaboration between the Municipality of Rotterdam, Metropolitan Region Rotterdam Den Haag, Erasmus University Rotterdam and SPAR University.
SPAR University is responsible for the daily operation. With the launch of Rosie the delivery robot, SPAR University can do data-driven business and provide the student at the EUR with ultimate convenience! They named the robot Rosie, an abbreviation derived from Robot On Site Erasmus.
Rosie will deliver products for students, employees and visitors of campus Woudestein. They can their lunch delivered by Rosie by placing an order in the SPAR university app. In the initial phase Rosie will deliver at Hatta Building and at the library. During the pilot there will be an evaluation of whether an expansion of delivery points is possible.
Help increase convenience
SPAR University sees opportunities for delivery on campus. There is currently a great need for convenience and purchases are often put off until the last minute. Rosie should help increase the convenience for customers to have an easy and healthy lunch. It's important to see how customers react to this service. Spar University will investigate whether robot delivery suits them to be an innovative business model.  
Gaining insight into technology and regulations is the main reason for the municipality of Rotterdam to participate in the pilot. "The growth and planned densification of Rotterdam and the climate challenges demand smart and clean solutions in mobility and urban logistics. Innovations such as delivery robots can play a role. We are investigating how it can contribute to our goals such as the Zero Emission Zone for City Logistics that will be introduced in Rotterdam in 2025," says Rosemarijn de Jong, advisor for Smart Mobility at the municipality of Rotterdam.
Interaction between humans and robots
This test will provide more insight into how delivery robots can play a role in our daily lives. The pilot is in line with Erasmus University's strategy of creating social impact. Prof. Liesbet van Zoonen (Erasmus School of Social and Behavioural Sciences): "Our students will have the opportunity to study the interaction between humans and robots from up close. In addition, we think it is important to investigate smart delivery in more detail because of innovation and sustainability."

Due to the ever-increasing demand for food delivery, SPAR university sees opportunities for delivery robots. Karlijn Kortenhorst, Marketing Hero at SPAR University: "It is important for us to see how our customers react to this service. We will also look at how we can integrate robot delivery into the daily shop operation. From there we will investigate whether robot delivery fits our concept and whether it can be an innovative business model."
The history of delivery
 In 2015 Picnic started delivering groceries and soon Crisp followed. Pieter Pot, an initiative from Rotterdam, came next. It's the very first circular online supermarket making waste-free shopping available for all. Delivering the orders in beautiful glass jars and collecting them again to use another time.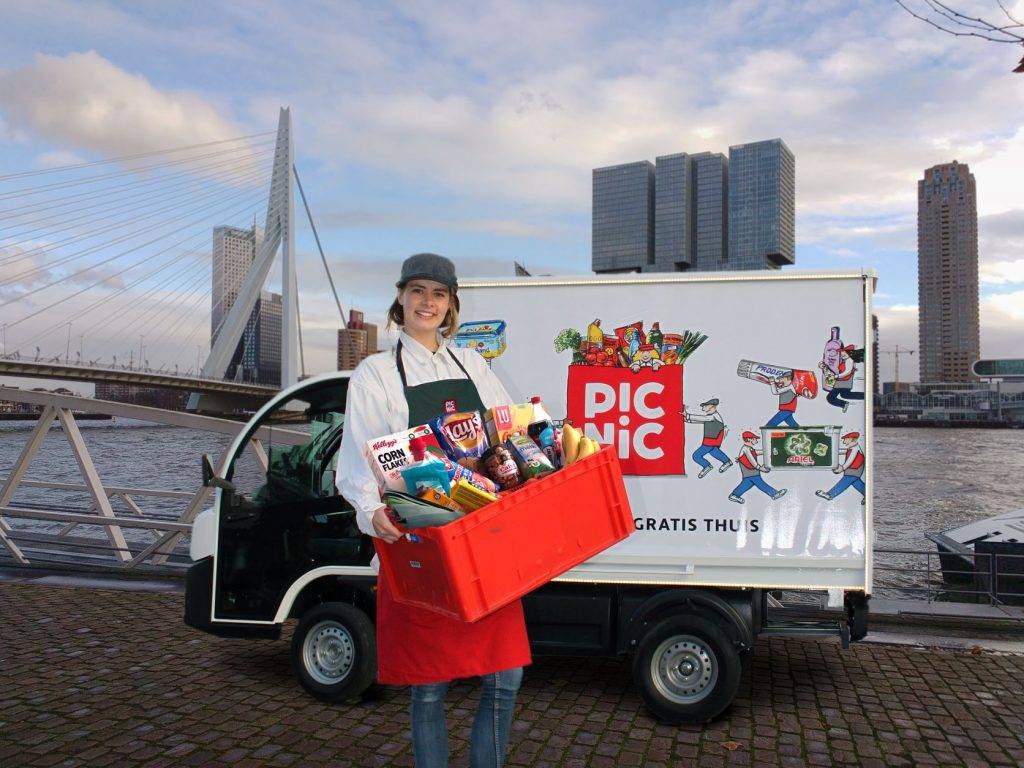 At the moment four ultrafast grocery delivery services also operate in Rotterdam: Gorillas, Getir, Zapp and Flink. Peddler has also arrived in Rotterdam, it not only delivers groceries but also products and gifts from local entrepreneurs within one day.
Coverphoto: Jonathan van Rijn