Strange sculptures
Along with the serious artworks on the city's international sculpture walk, Rotterdam has a legion of oddball street sculptures waiting to be discovered, some of which literally drip with irony.
Santa Claus
The American Paul McCarthy's controversial bronze sculpture is the most talked about supersized gnome in town. After much hoo-ha, his Santa Claus finally stands with pride on the Eendrachtsplein near the Oude Binnenweg. Locally, it's referred to as Butt Plug Gnome thanks to the item it holds in its fist.
"It's a Christmas tree," says its creator. "It's a sex toy," cried detractors. Back in 2001, the discussion became so heated that the council eventually withdrew permission for the €300,000 sculpture to be erected in a public place. Museum Boijmans Van Beuningen took pity on the banned gnome and offered it a spot in its garden. Santa Claus was later exonerated, and the photogenic artwork now stands right next to the international sculpture walk that runs along the Westersingel.
Another sculpture that has had its fair share of criticism is Anita, a legacy from the Rotterdam Cultural City 2001 event. She stands, somewhat alone, in the middle of the Westblaak, behind Santa's big backside. Artist David Bade created his motley sculpture on top of pallets using rubbish and found objects. He had in mind those ubiquitous city girls running about in sportswear. On top of Anita's sturdy torso, he has plonked a stylised girl's head.
Sausages
After you have finished inspecting Anita, look across to the grassy area on the Eendrachtsweg between the water and the tramrails where the Viennese artist Franz West's so-called turds or sausages lie. They are sometimes called The Sitting Sausages because, as the name suggests, you are allowed to sit on them. Officially, they are called Qwertz, which has no particular meaning attached to it, according to West.
The coloured sausages facing Museum Boijmans Van Beuningen are a good place to rest because from that vantage point you can view a real Picasso. This concrete beauty in front of the Museum's entrance is called Sylvette, the same Sylvette who in the 1950s was a model for the famous Spanish artist.
Now take a short walk to the skate park on the Westblaak to view The Guard. One look at this gigantic strapping superhero and you instantly recognise artist Hans van Bentem's source of inspiration — Japanese animes. The Guard is a true Gundam, a human-controlled robot protecting skaters with a bazooka arm.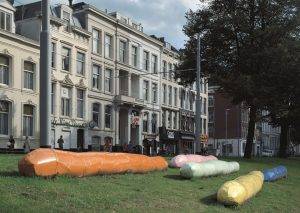 Oil
Another unusual sculpture is located a little further along, at the junction between the Westblaak and the Coolsingel. Rotterdam is a harbour city with a number of oil refineries. In a former dock area, artist Joep van Lieshout has created his image of the city in a sculpture that can best be described as a stack of oozing oil vats; his personal ode to the harbour that made the city great, but also a nod to our consumer society that runs on oil and guzzles up resources.
Straight ahead, you will come up against another city icon right next to the Markthal. This eccentric obelisk sculpture honours Rotterdammer Marten Toonder, one of the Netherland's most well-known comic strip artists. The sculpture comprises characters from his work – Tom Puss, King Hollewijn (Tobias Rex) and many others. This is another sculpture on which you can sit and rest.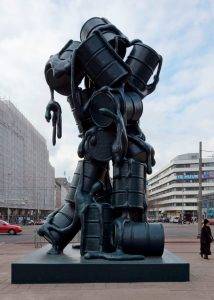 IBCR; Joep van Lieshout; Cascade Rotterdam;

Words: Evelien Baks