The best bistro's in Rotterdam
You don't have to travel to France to enjoy heavenly French bistro-style food. Rotterdam has a great selection of quality, affordable bistro restaurants.
Mevrouw Meijer
This secluded little eatery doesn't have a website or a Facebook page, just a telephone for enquiries. The vibe at Mevrouw Meijer (Mrs Meijer) is that of a French country hotel. Mevrouw Meijer is actually a man, owner and chef Richard Meijer, who offers his own special take on the French bistro experience. After being seated at your table, you are served an amuse-bouche of radishes or ouefs durs mayonnaise (hard-boiled eggs topped with mayonnaise). The restaurant's tiny open kitchen creates dishes such as whole turbot with parsley butter, lemon and capers, and hearty autumnal meals, including calf cheek casserole and veal with lentils, salsify (oyster plant) and yams. Divinely French.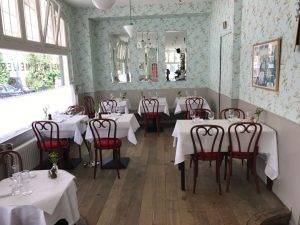 Gerard Scholtenstraat 37
Mon to Fri from 5.30pm
Zino Urban Bistro
In the owner's words, Zino Urban Bistro is "Oude Noorden's tastiest surprise". Just down the road from Mevrouw Meijer, slow food chef Martijn Korving offers his twist on French bistro cuisine. Every morning he decides what he will make that evening based on what he has found at the market, which means this cosy corner establishment has a fresh menu every day. Grilled rib-eye steak with sweet potatoes or sea bass with pickled turnip might be on offer, or perhaps a cauliflower steak with radicchio and roasted apricot. It's honest, adventurous cuisine.
Zwaanshals 265
Wed to Sat 6pm-10pm
Sat 12 pm-4pm
Bistrot du Bac
Black-and-white blocked floor, tiled walls, mirrors, framed posters, Thonet chairs… everything in this bistro oozes Parisian charm. A cheerful buzz greets you as you enter, and ouefs durs mayonnaise is served as a welcome snack, after which you can order an entree slow escargots or Bouchot mussels, paté freshly made in house, and boudin noir (black pudding). For the main course, you have a choice of classics, including confit de canard and boeuf bourguignonne. Chef Remco van de Langemaat, who looks out over the restaurant floor from his elevated kitchen, loves full, rich flavours. This is evident right through to the dessert course, which includes his delicious moelleux au chocolat.
Sumatraweg 5b
Wed to Sun from 6pm
Fri to Sun 12pm-4pm
FG Bistro
It is not in your typical location for a bistro, nor is FG Bistro's interior typically bistro-esque. Instead of simple wooden tables and chairs, the seating here is luxurious, almost that of a Michelin starred-restaurant. But ooh la la, what amazing bistro food. First up, scrumptious bread served with a generous portion of exclusive Bordier butter that has been freshly whipped in house. Drinking a glass of Kir, cooing with delight, you will weigh up whether to go for the chef's recommendation (fantastic value for money), or something from the à la carte menu, which is every bit as tempting. Besides classics like Gillardeau oysters, escargots and steak tartare there's also Asian specialties such as saoto, bapao and dim sim. With Edith Piaf crooning in the background, round your meal off with a Vive la France dessert – Iles Flottantes (a silky meringue) with caramel and with the restaurant's own vanilla ice cream.
Lloydstraat 204
Thu to Mon from 12pm for lunch and dinner
Zinc
Restaurant trends come and go, but at Zinc food fads don't get a look in. For years, this cosy, long, narrow restaurant in the stately Scheepvaartkwartier has exuded a French country ambience. This becomes evident from the footpath outside where wooden crates stand piled up, brimming with fresh vegetables. At Zinc you get honest, unpretentious food, served without fuss. Order a standard Zinc-French meal, such as the sauerkraut with smoked fish, mussels in cream sauce, or veal casserole. Vegetarian favourites include thinly sliced celeriac marinated in truffle oil and, in springtime, crudités with eggs and mayonnaise freshly made in house. And you will definitely put your hand up for a second helping of Zinc's famous potato purée.
Calandstraat 12a
Wed to Sun from 6pm
La Buvette
With its marble floor, golden decorative features, large palms and round Parisian tables, La Buvette is a lovely grand café with a bistro style. Conveniently located in the monumental Erasmushuis in the middle of the city, La Buvette is a great place to settle down and enjoy a nice long lunch. The menu includes steak tartare, Saint Agur et figues (blue cheese and figs) and salmon fumée et écrevisses marinées (smoked salmon with marinated freshwater crayfish). Main meals include the classic coq au vin and the house speciality, steak tartare. For evening dining, La Buvette's golden revolving door is unfortunately only opened on Fridays (the city's late shopping night).
Coolsingel 104
Mon to Thu 8am-6pm
Fri 8am-10pm
Sat 10am-6pm
Sun 12pm-6pm
Words: Ellen Scholtens