Make no mistake. Drag Queens are so versatile. They act, lipsync, model, dance, impersonate, sew costumes and be shady on top. Since the international success of Rupaul's Drag Race more and more people have become enthusiastic about this extravagant form of art. Drag queens, the men, and women who adopt an alter ego with the help of extravagant outfits and make-up, are increasingly in demand. In Rotterdam, you can also be amazed.
Drag Dinnershow
Ynel Regalo is from Rotterdam and she is Miss Travestie Holland 2019. Every Saturday she invites two colleagues for a Drag Dinnershow in Vinn near Central Station. The three true artists present a fantastic show during which a delicious 3-course menu is served.
Every Saturday from 5 PM, Vinn
The Rotterdam Drag Show
From 10 September, the Schiecentrale in Rotterdam will host a series of drag queen shows, some sort of magisterial afterparty of the Eurovision Song Contest.
Marco Valk, owner and founder of events agency Co Sole, believes that the Song Contest festival atmosphere in a tolerant and free-spirited city like Rotterdam should be maximised. According to Valk, The Rotterdam Drag Show will be a special happening: "It will be grand, colourful, extravagant and compelling!
Valk sees the drag shows as a celebration for everyone and not just the LGBTQ community: "It's a shame if in a hip and happening city like Rotterdam there is not enough to do regarding this.  These shows are a statement in a progressive country like the Netherlands".
Big names from the international Drag Queen circuit – including Miss Continental Vanessa Van Cartier and the winner of RuPaul's Drag Race Holland: Envy Peru – have been booked. Each evening the show ends with a Drag Dance afterparty. The evening will be presented by American Skyla Versai, also known as the insult queen.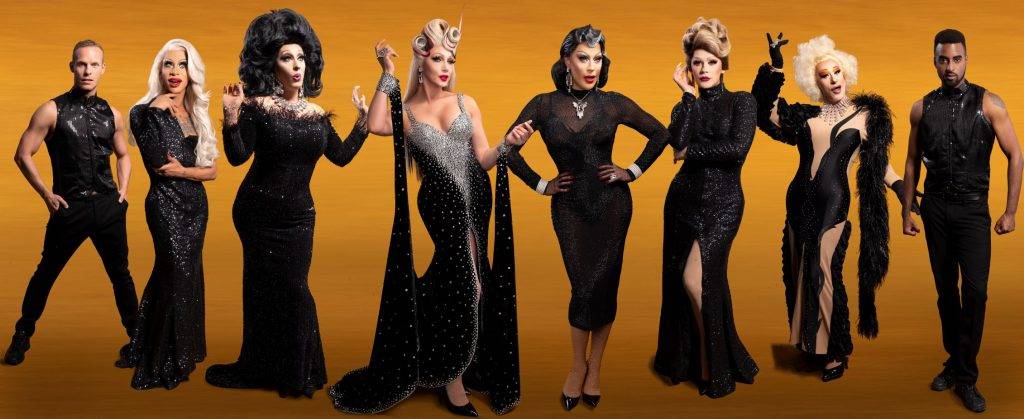 The cast of The Rotterdam Drag Show. Photo: Hannah Anthonysz
Dinner shows at Villa Thalia
Villa Thalia also regularly gives room to Drag Queens. Every Friday the weekend starts with a spectacular dinner show with different concepts. The shows are based on festivals, there is a classic/modern Dinner Show and there is one concept where the whole evening is devoted to a particular artist and/or band or to a distinctive theme like a Drag Queen Dinner show.