Feel like shopping or want to try some delicious food? The Meent is your place to be: this versatile shopping street in the middle of the city centre has many hotspots. We selected 10 of the best ones for you!
Thoms
This restaurant and (on Fridays and Saturdays) Underground Bar is a great place to meet up. No nonsense food on the menu; pulled pork, lobster, and lots of other delicious meals from the Mibrasa charcoal oven. Try the Denver chimichurri steak. Thoms has direct access to Museum Rotterdam in the Timmerhuis building (a Rem Koolhaas (OMA) project).
Meent 131-129 
Dudok
The best apple pie in the country comes from Rotterdam! Dudok is one of a number of places serving this Dutch specialty made with fresh apples, raisins, cinnamon, and topped with a delicious crumble. Eat in Dudok's spacious restaurant or in Dudok Patisserie, the smaller bakery space annexed at the back. The lemon and meringue pie is also scrumptious.
Meent 88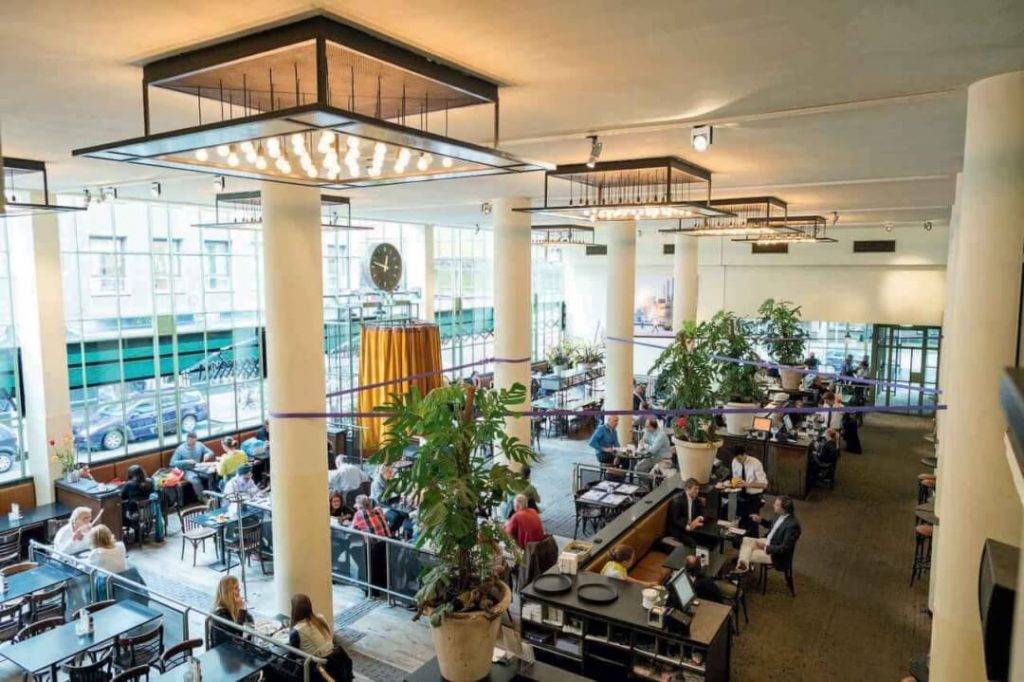 De Bonte Koe
A chocolaterie near the Meent, with atelier, workshop, and a space to drink a cup of tea or order a chocolate fondue. The chocolate display is so tempting it's hard to know what to choose … hazelnut, caramel, malt wine? Bonbons, bouchées, chocolate tiles, 'guilty pleasure' packets … everything in the shop is made with Fair Trade chocolate. You can get sachets of hagelslag here as well, the chocolate product that the Dutch love to sprinkle on their bread for breakfast.
Delftsevaart 26 
Gouden Ton
A stylish wine shop offering great advice on what wine to select for your food (and also where to go out in the city). Specializes in New World and Austrian wines and has an extensive range of Bordeaux and Burgundy wines and a champagne section as well. Sparkling Loimer Traubensaft is a nice alcohol-free alternative. Global Blue tax free shopping available.
Oppert 4a
De IJssalon
Rotterdammers love eating icecream from the Ijssalon, which has outlets throughout the city. The icecream parlour uses fresh fruit and juice, vanilla sticks, milk, cream, and sugar (sugar-free options also available). On a fine day, fans can be seen queueing outside for a classic cone of milk, dark, or white chocolate or perhaps something different like mint, caipirinha, or Why Nuts—a yoghurt icecream with nuts and honey.
Meent 69a
Lenselinq
A wine importer who specializes in smaller wineries and often knows the wine grower personally. Offers quality wines in limited quantities so you have to be in if you find one you like. Lenselinq does not sell New World wines and doesn't like 'hypes'. You can discuss and taste wines, sitting with the owner in a comfortable corner listening to records playing on an old-fashioned record player or sit at the wine grower's kitchen table doing the same.
Oppert 294
Little Italy
Rotterdam's number one Italian delicatessen where you can get everything you need for a genuine Italian meal, including anti pasti. Also pizza slices and filled rolls and a great assortment of salamis, hams, cheeses, and pastas. And, of course, Little Italy's homemade tiramisu.
Lombardkade 51a
Guliano
Guliano Panetteria e Cantina has a busy New York-Italian vibe, especially on market days (Tuesdays and Saturdays) when market goers flock there to grab a drink and a bite to eat. Best sellers on the menu are bistecca with thinly sliced roast beef, Ed's pastrami, and the Caprese toasted sandwich.
Meent 31a
Yellowkorner
For limited edition, affordable art photographs. This gallery partners with big international names and also discovers and promotes new talent. Photos are available in small or large format from celebrated photographers like Slim Aarons and Bernard Hartmann.
Meent 7a-9a
Shoe club
One of the most popular shoe boutiques in the city, this shop combines trendy sneakers with sturdy boots and elegant pumps from top notch brands. There's also a collection of bags, belts and clothing.
Meent 98