Artist Joep van Lieshout and project developer RED Company joined forces to build a large-scale cultural cluster in the M4H-area. The new art institution with the name Brutus is the first tangible project. This 4000m2 venue houses several large and small industrial exhibition spaces and a sculpture garden.
Brutus is an artist-driven playground where makers get carte blanche to experiment. The opening programme, Obsessions, presents new work by L.A. Raeven, a presentation by artist Alexandra Phillips (US) and an installation by Atelier Van Lieshout. The exhibitions are on show from 11 March to 29 May 2022.
For Van Lieshout himself, the creation means he can continue to produce and exhibit his full body of work. An ongoing visual saga spanning over 35 years at a single location under the moniker AVL Mundo. From March 2022, AVL Mundo continues as an art institution under the name Brutus. In The Maze, installations, sculptures, objects and machines occupy a labyrinthine collection of tunnels, staircases, hallways, recesses and 'artistic traps', offering new insights into the meaning and impact of AVL's work.
AVL Mundo continues as Brutus
Visionary artist Joep van Lieshout started making art professionally aged 16 and has since produced a huge, multifaceted and internationally acclaimed body of work combining sculpture, design and architecture. He has founded and worked under the name Atelier Van Lieshout since 1995. "Brutus creates a physical hotspot for interdisciplinary partnerships, a place that can strengthen Rotterdam's position on the international cultural map," Joep van Lieshout explains.
ExpoBrutus is exclusively for independently curated solo exhibitions. By internationally renowned artists and unknown and overlooked artists. The focus will be on large-scale work and immersive installations, the type of presentation that has become less common in museums due to costs, size and risk-averse programming. At ExpoBrutus artists can excel and exhibit on a giant scale.
Brutus combines culture, living and working in an area with 120 years of industrial history. At its heart lies a cultural cluster measuring at least 7,000 square metres. There will ultimately be a publicly accessible art depot, an art education unit, workshops, studios and affordable working and living spaces for artists. The outdoor area will feature an open-air cinema, a theatre and a sculpture garden.
Ultimately crowned by three apartment blocks with a combined total of 750 residential units. The 140, 90 and 55-metre high structures echo Van Lieshout's functionalist artworks and will be designed by Atelier Van Lieshout in cooperation with architectural firm Powerhouse Company. The new complex consists of numerous structures connected by staircases, ramps and hallways.
An air of no-nonsense honesty
The complex's name refers to brutalism. An expressive architectural style from the 1950s and 1960s with an air of no-nonsense honesty and the promise of a utopian community. Brutus suits the unpolished context of Rotterdam's port environment perfectly. This specific area has a 120-year history. It started off as part of the greater Rotterdam port and for years boasted one of the world's largest fruit terminals. M4H is now on the cusp of an extensive urban renewal project that will continue to transform it into a cultural hub of international stature.
As part of Obsessions. The art duo L.A. Raeven presents What Did I Do Wrong? The pain and possible confusion a girl feels during her first period pale in comparison to the social pressures she is subjected to as an adult woman. The girls in What Did I Do Wrong? refuse to play a passive role in the game of power, honour and control. They refuse to wear the social straitjacket that links their reproductive capacity to restrictions on their behaviour and prudishness. They rise up against normalised violence, the emotionless society and all that is fake, and strike back with the blood that started it all.
Dogs Can Smell Dogs
In Cellar by Atelier Van Lieshout, visitors find themselves in an underground event/happening with things that cannot stand the daylight. This place keeps secrets, surrounded by a stuffy air. But this underground space is also ideal for conserving the vulnerable and offers shelter from an all-too-intrusive outside world. In Cellar you descend into the human mind with all its contradictions. Away from the bright sunlight, the bad thrives and the good proliferates. Cellar is a surreal parallel world with morality temporarily sidelined.
In Dogs Can Smell Dogs, emerging talent Alexandra Phillips repeatedly urges the viewer to recognise the phenomenon of deviation and see it as a lubricant for real contact. She translates this vision in her sculptures, reliefs and videos by presenting familiar items and materials in unfamiliar ways. Phillips makes use of the intrinsic value and character of objects and materials. Her works highlight the unforeseen potential and appeal of our built environment.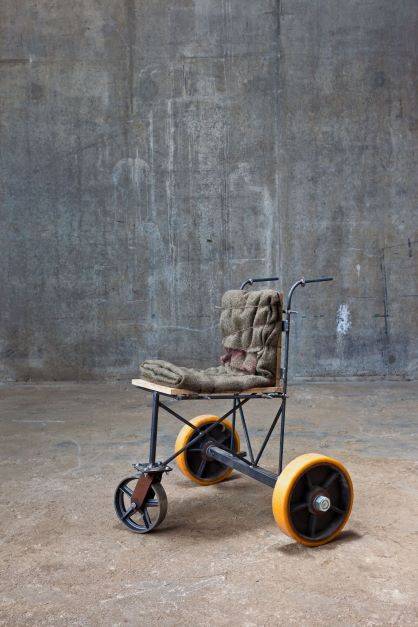 Taken out of context
In March, Grande Loge will present the interactive performance Welcome to Filantropia, which will examine what causes the exploitation of artists in a world where anyone can be summarily cancelled. Welcome to Filantropia will be performed live several times at Brutus from 12 to 27 March.
This summer Erik Kessels is going big with Overload, a solo exhibition in which he will overload Brutus's 4000m2 space with thousands of amateur photos taken out of context. It is a physical confrontation with the excess of images that we take in on a daily basis. According to Kessels, we are in the midst of a photographic renaissance in which we have become accustomed to consuming images with the same greed, concentration and enthusiasm that we consume fast food.
Throughout the year, Brutus will collaborate with cultural initiatives in Rotterdam and beyond. Soon, music by Domestica and art by Atelier Heerenplaats will come together in the Cathedral, one of Brutus's most beautiful spaces. In May, Brutus will host the internationally acclaimed opera Sun & Sea, brought to the Netherlands by the O. Festival. Brutus also collaborates with Roffa Mon Amour, HipSick, Club BIT and Rotterdam Art Week.