Western neighborhoods such as Delfshaven, Nieuwe Westen and Middelland keep getting more attractive because of new eateries. Bar Simon opened its doors on the Middellandplein, it's a bar-bistro with a large terrace. Besides an extensive beer and wine list, Bar Simon offers French-Dutch classics, starters, and desserts. 
Bar Simon's dishes are inspired by the French-Dutch cuisine and are made with high-quality ingredients. The extensive appetizer menu includes a homemade lentil pâté with mushrooms, artichokes in vinaigrette, kohlrabi in champagne sabayon, steak tartare, and escargots in herb butter. For the main courses, there are three classics: steak béarnaise, monkfish, and a tartelette ratatouille.
At Bar Simon, you can also go for a snack or just a drink. There is an extensive drinks menu with wine, soft drinks, five beautiful cocktails, including the signature Mr. Simon, and beers, including some from Brouwerij Noordt.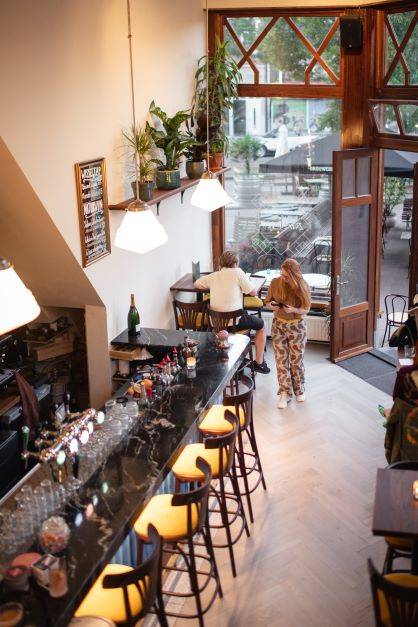 Bar Simon is a nice addition to the existing catering establishments on the Middellandplein in Rotterdam-West. Next to De Buffel, Mr. Nonno, and Wijnbar Fou, there is room for a nice bar-bistro. Behind the large glass façade with beautiful art deco details lurks a spacious restaurant with more than fifty seats. The back wall of the bar is filled with mirrors and the marble top of the bar matches the bright blue ceramic tiles. Upstairs, two long blue velour sofas shine where you can eat with larger groups or go on an intimate date. The Middellandplein is becoming an area where you want to come from the city or where residents of Rotterdam-West don't want to leave their neighborhood to get a bite to eat or a drink.
Bar Simon is open every week from Wednesday till Sunday from 5 PM till late.
Photography: Hannah Rosalie Photography