Rotterdam has an extensive transport system criss-crossing its mighty Maas river and there are many ways to enjoy yourself on the water. 
Water taxi
The Watertaxi network has some 50 stops where you can jump on and off. One of the busiest routes runs between the historic Veerhaven and the former headquarters of the Holland America Line. Hotel New York (and restaurant) is located in this distinctive building that dates back to 1917 and stands as a reminder of the many migrants that set out from this spot to 'the promised land'.
The Watertaxi isn't just for short trips. Round trips lasting from 30 minutes to a couple of hours can be arranged for family and friends, using the services of an experienced skipper.
De Tenders
De Tenders is another unique boating experience. Departing from Leuvehaven in the city centre it offers city cruises and architecture tours along Rotterdam's breathtaking waterfront accompanied by a tour guide. Or choose a floating dinner experience, stepping out at restaurants along the way for a main meal and dessert. Steamship Rotterdam is naturally one of the stops. In the past the steamship used De Tenders as a shuttle service.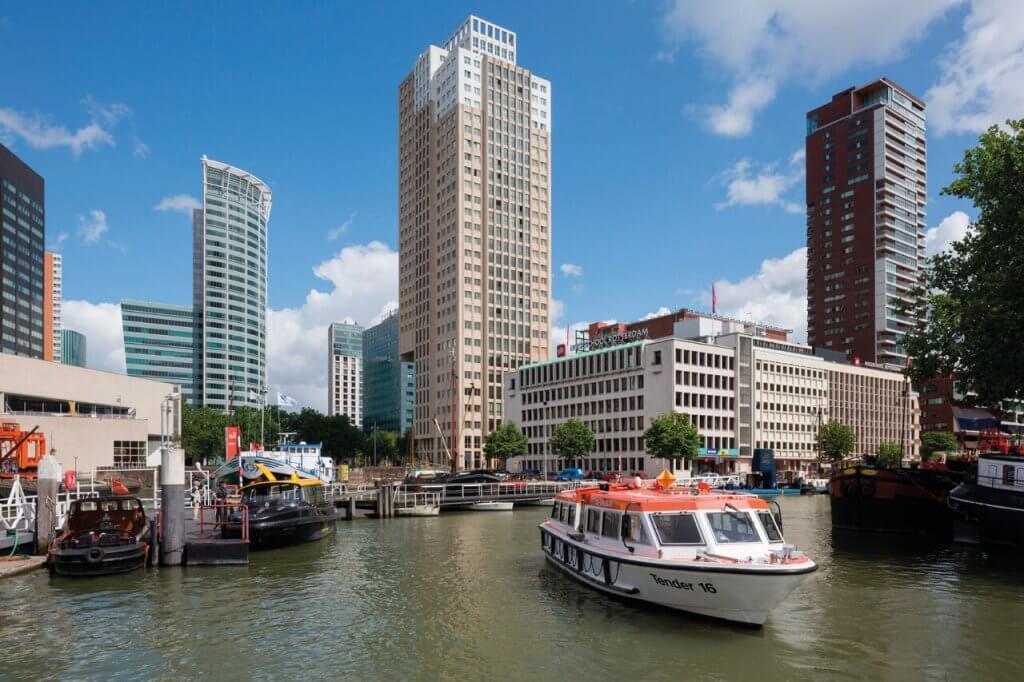 Spido
Spido is the city's largest and best-known boat-touring company. Boats depart year-round from the foot of the Erasmus Bridge, offering round trips, day trips, and themed cruises. From Rotterdam Harbour tours lasting 75 minutes (longer also possible) to summer evening tours. Attractions along the way are explained in four languages (Dutch, English, German, and French). A tour of Rotterdam can be combined, at a discounted rate, with a visit to the Euromast, the highest building in The Netherlands at 185 metres, and the Markthal, the country's largest covered market.
Waterbus
Another option is the Waterbus, a regular service sailing between the Erasmus Bridge, St. Jobshaven, Katendrecht, and the Heijplaat-RDM, where a number of cycling and walking routes are set out. By taking the Waterbus and then travelling onwards with a (hired) bicycle you can visit the likes of Dordrecht, Alblasserdam, and the windmills at Kinderdijk.
Splash Tours
The most spectacular excursion of them all has to be with Splash Tours. You are signing up for a surprise as you take your seat on Splash Tour's bright-yellow bus. The trip begins with a tour of the city's top attractions…and then comes the 'splash' as the bus drives straight into the Maas! Don't worry—the bus instantly transforms into a seaworthy vessel transporting you along the city's spectacular skyline from the water. Splash Tour's amphibian bus tour takes 60 minutes.