Looking for a night out?
Rotterdam's nightlife has a lot to offer, but you need to know where to go. Inside Rotterdam has selected the coolest clubs and parties.
BIRD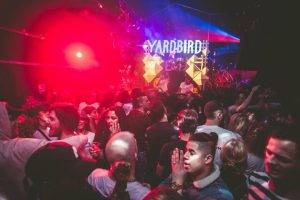 BIRD organises both concerts and club nights filled with soul, funk, hip hop and R&B artists.
Atmosphere: Friendly and open to a broad audience. During club night Yardbird, you will mainly see a hip audience in their 20s, but on other nights this can be totally different.
Type of music: Everything that is soulful.
Be sure to visit… Yardbird, one of the longest running club nights in Rotterdam that lets you dance the night away to the best hip hop, R&B and future sounds. It's organised monthly. The next editions are on January 13th, February 10th and March 10th.
Raampoortstraat 26-28 (Agnesiebuurt)
bird-rotterdam.nl
THE SUICIDE CLUB
A cocktail bar and a sensual, chic club in one, The Suicide Club is a great place to go if you love to dance all night with stylish people.
Atmosphere: Fancy with a twist – you can put on your high heels and sexy dress, but won't be underdressed in a pair of cool sneakers either. The club attracts Rotterdam's most fashionable night owls and international guests of varying ages.
Type of music: Programme manager and DJ Cincity plays mainly house music, but she also invites DJs who play old-school hip-hop, deep house and more.
Be sure to visit… Their Friday and Saturday night parties with different DJs.

Stationsplein 45 (Centrum)
thesuicideclub.nl
CLUB VIBES
Vibes can't really be easily described, but it's one of those places where Rotterdammers usually end up unexpectedly after a night at the bar. The small club is attached to brown café Stalles, so a lot of guests move on to Vibes after Stalles closes at for a good night of dancing.
Atmosphere: Laid-back and no-nonsense. As for the dress code, don't worry about your outfit because at Vibes, anything goes.
Type of music: Depending on the DJ who plays that night, it can range from R&B, dance and pop to nostalgic guilty pleasures.
Be sure to visit… And don't come too early. Vibes starts to get crowded and fun quite late in the evening, so don't come before 1am.
Westersingel 50A (Centrum)
clubvibes.nl
BAR
BAR started as a temporary pop-up club in an up-and-coming area close to the central station, but in six years it has become the go-to place for any house lover in town.
Atmosphere: Underground but open, with a mixed but hip audience. The main area looks like an American diner with 1990s influences, while the other two areas are completely black.
Type of music: Mainly progressive house.
Be sure to visit… Any night with a special theme, like the pool parties (including an indoor jacuzzi) and the karaoke bar on Wednesday night.

Schiekade 201 (C.S. Kwartier)
barbar.nu
ROTOWN
Though it is officially a concert venue, Rotown also regularly organises parties of all types and with all kinds of music genres.
Atmosphere: Rotown has it all: a café area with a brown leather couch, a dance floor with a stage and a backstage area with a bar. And no need to feel too young or too old, as music lovers of all ages come here depending on the night and programme.
Type of music: From 1980s and 1990s alternative to drum and bass, depending on the night.
Be sure to visit… 35 and Still Alive (for a night out without the kids), Welcome To Uranus (gay-friendly), or Rotown's Open DJ (your chance to get behind the turn tables). Weekly Friday night parties have free entrance.

Nieuwe Binnenweg 19 (Centrum)
rotown.nl
AND DON'T FORGET THESE CLUB NIGHTS…
NOW&WOW FEST
Now&Wow was an infamous dance club in the 2000s, founded by Rotterdam party guru Ted Langenbach. It closed in 2003, but in 2011 the concept came back as a club night organised under the name Now&Wow Fest and was held in industrial locations. The next edition will be on December 16th in the Maassilo. Expect performance art and pop and electronic music. And don't hold back in your outfit choice: more is more!
DANSVOER
Dansvoer is a silent disco party. Every visitor gets a set of headphones with three channels, indicated by the coloured lights: house/techno, disco/funk and, of course, guilty pleasures. On December 16th, there's a special edition of Dansvoer On Ice. There will be parties in January and February and, starting in April, a monthly edition in the garden of Aloha Bar.
ROTTERDAM RAVE
Rotterdam Rave is a techno party that started out as a festival but now also organises regular indoor editions in the industrial, raw setting of the Maassilo. The next one is on March 17th. It also hosts so-called label nights, parties with one area fully dedicated to a single artist and their signature sound.