Rotterdam really comes alive in summer – not that it ever sleeps, of course. With so many ways to enjoy the city on a beautiful day, we've been hard-pressed to compile the definitive to-do list. But here they are: the 10 things you should be sure to see or do when the sun appears. From festivals to water fun, we've got them covered.
De Bouw
Rotterdammers like to build, preferably sky-high. During De Bouw (the construction) amateurs can saw and hammer away, making a garden bench, side table, hut, model tower or whatever takes their fancy. The Museumpark will be full of wood, so find a place and get started. There will also be children's workshops and, because building works up an appetite, food.
21-22 July & 25-29 July, Museumpark, debouwrotterdam.stichtingdeloodsen.nl
Dizzy in the Park
Duizel in het Park (Dizzy in the Park) is a sparkling, quirky cultural festival in the Vroesenpark, suitable for all ages, from young children to the elderly. City and neighbourhood stories will be brought to life through readings, theatre, artworks and music. Several writers will read from their own work in small, intimate corners of the park.
3-5 August, Vroesenpark (North), duizelinhetpark.nl
Van Maanen swimming pool
It's hot, you're roasting and really need to cool down. Water is the only way! Rotterdam's best-known pool is an outdoor oasis where you can swim, sunbathe and almost forget you're in the middle of the hectic city. There are also goalposts, basketball baskets, table-tennis tables and – new this year – a dressing area with toilets and showers.
Outdoor pool open until 21th September, Van Maanenstraat 8 (North), vanmaanenbad.nl/buitenbad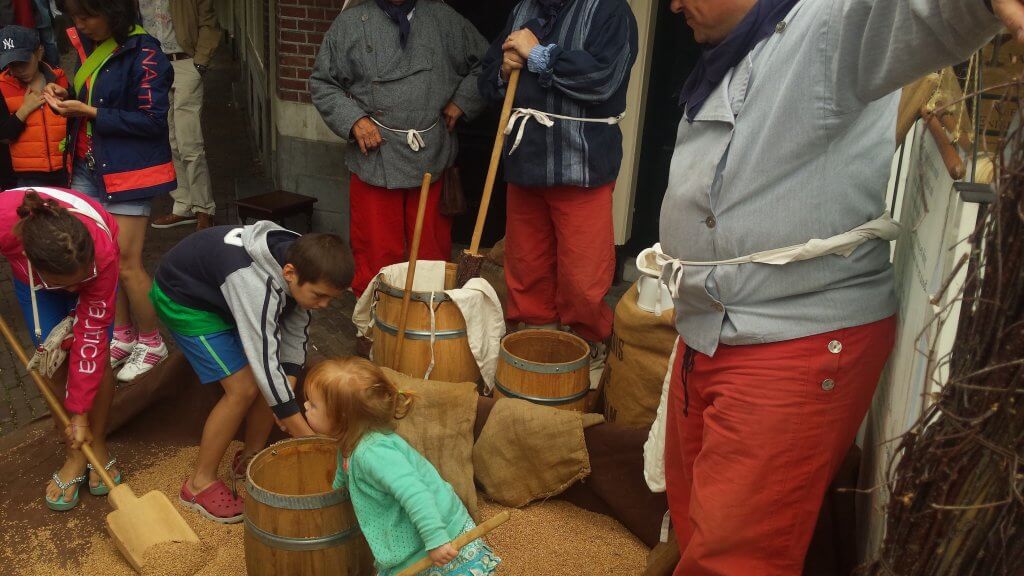 Kettles on the Quay
Step back in time with Ketels aan de Kade (Kettles on the Quay), which brings historic Delfshaven to life with workshops and demonstrations of ancient crafts. Sing along with medieval troubadours, browse the market stalls, stop off at the open-air inn and sample great food. There's so much to discover when you enter a time machine.
11-12 August, Delfshaven, ketelsaandekade.nl
Culinesse
It might not be in the city centre, but trust us, this beachside culinary festival is well worth the metro ride to Nesselande (terminus line B). It's a feast for all the senses, where you can not only sample delicious food (courtesy of city restaurants such as Asian Glories and Hotel New York) but also catch performances by acts such as BlØf, Kensington, Golden Earring and Candy Dulfer.
23-25 August, Zevenhuizerplas (Nesselande), culinesse.nl 
Night of the Cape 
Nacht van de Kaap (Night of the Cape) promises an evening of chansons and tall tales held, as the name suggests, on the Kaap (Cape) of Rotterdam, at Katendrecht. Picture the peninsula as it used to be, when it was still a red-light district and the haunt of sailors, with a pub-crawl along the Deliplein followed by a burlesque show at the Walhalla Theatre. There are also cafés and restaurants aplenty, and a music kiosk.
8 September, Deliplein (Katendrecht), denachtvandekaap.nl 
Rotterdamse Kost
You can't get more Rotterdam than this culinary festival in the Kralingse Bos ('kost' is slang for food). Top restaurants will serve their bestselling fare – from a local 'kapsalon' and beer to a Michelin-star dish and the finest wine – and artists such as The Kik, Douwe Bob and Anita Meyer will perform. Rotterdamse Kost bills itself an 'ode to the most beautiful rotten city there is'.
21-23 September, Kralingse Bos (Kralingen), rotterdamsekost.nl 
Djemaa el Fna 
A perfect festival to end the summer. Inspired by the Marrakech square of the same name, Djemaa el Fna will transform Museumpark into a bustling Moroccan village, where you can smell the tajines and hear the beat of the drums. It even comes complete with a colourful souk, where you will find literature, music, theatre, comedy, souvenirs and cooking demonstrations. Marhaban!
21-23 September, Museumpark, djemaaelfnarotterdam.stichtingdeloodsen.nl
By Gerdien Barnard